You have likely heard of Freon. And you have probably been told that Freon is largely responsible for your air conditioning system to work properly. Have you ever turned on the A/C only to feel hot or warm air coming out? That could likely be explained by a low amount of Freon. Freon is actually the name of a product made by the Chemours Company. It is a chemical component that is used to keep things cool. Keep reading to learn how it keeps your car cool on a hot day. 
---
You might also be interested in: What is a variable compression engine? 
---
How does Freon keep you cool? 
Your air conditioning system is a bit more complicated than simply pumping cold air in. As simple as we can make it, your A/C (in your car or home) takes in hot air and converts it to cool air. It does this until the temperature matches the desired setting of the thermostat. Seems like magic, right? Well, no, it's science. 
---
---
Here is how it works. Freon is a nonflammable gas that undergoes an evaporation process. This same process can be seen in a basic home refrigerator. A compressor in the A/C system compresses the cold Freon gas. Once compressed, the pressure of the Freon rises which actually makes it hot. The hot Freon then moves through coils which subsequently cools it again and converts it into a liquid. After that, the newly-formed liquid flows into an expansion valve which causes it to cool down more until it evaporates and turns into a gas again. Still with us? Your A/C filters that gas, as it goes through another set of coils. Air filters prevent dust, pollen, smoke, and whatever other debris from mixing with the Freon. The end result, of course, is cool air coming out of your vents. 
It's not a simple process to grasp, but we hope this gave you a better understanding of how Freon works to keep you cool. If you are unsure of your Freon levels, bring your INFINITI in and let us check it out! Stay cool out there!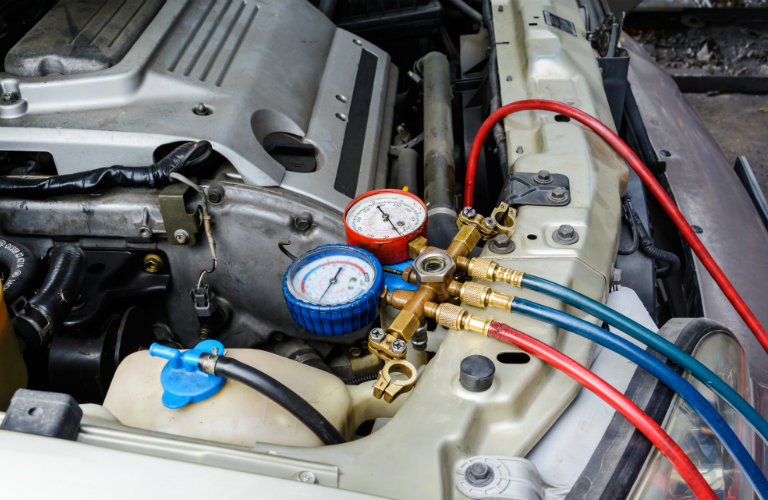 ---
Schedule a service appointment 
---